FAQ & Size charts
How do Umsteigen sizes fit?
We updated our sizing! All sizes are still available. Size S is now XS, size M is now S, size L is now M, size XL is now L and a looser XL has been added in the black bamboo only to start. The XL is a jump bigger.

In dress sizes: XS=2, S=4-6, M=8-10, L=12 and XL =14-16.

Here the measurments for the Bamboo T: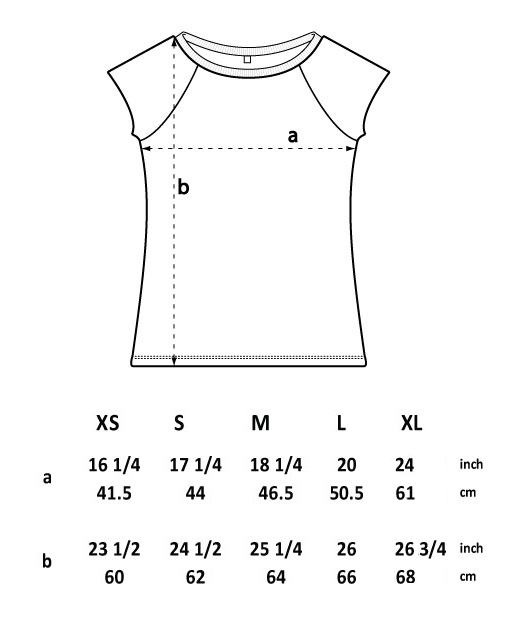 And the 3/4 Sleeved Ts: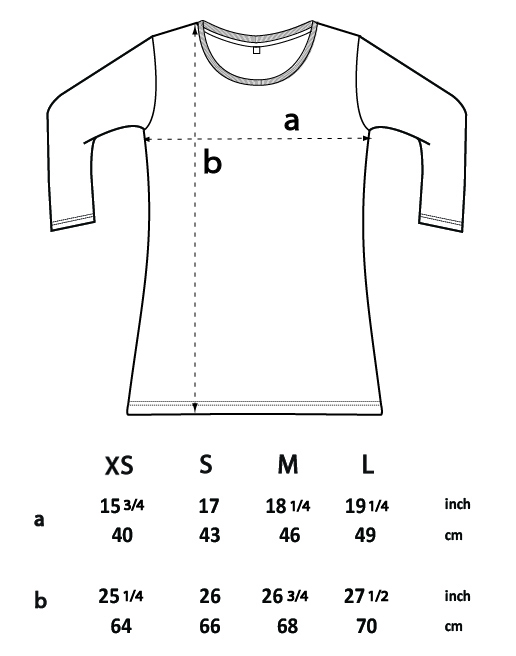 If you have any questions please contact us and we'll be happy to help you choose a size - [email protected]
I can't check out my order, what do I do?
Some computers virus protection software block pop ups which is probably why you can't check out. You can try changing your pop up settings or email us your order: style/size/shipping address and we can invoice you - [email protected]
Where is Umsteigen made?
All our designs are hand screen printed in our Brooklyn studio.
The T shirts are made fair trade using organic fibers abroad.
How are Umsteigen images printed?
All prints are individually done by hand using silkscreens. Prints may vary slightly from shirt to shirt.
What does 'umsteigen' mean?
The word 'umsteigen' is German for 'to transfer' i.e. to transfer from a car into a train.
How is Umsteigen shipped?
Free shipping on all US orders! All orders are shipped USPS First Class within 3-5 business days. For express shipping please contact us, rates apply.

International orders are shipped USPS, shipping rates will apply.
What's Umsteigen's return policy?
Good purchased from Umsteigen can be returned in their original condition with ten (10) days of receipt for a full refund or within twenty (20) days of receipt for an exchange or a credit.
Shipping costs incurred in returning an item are not covered by Umsteigen, however, exchanges are shipped for free.
Does Umsteigen ship internationally?
Yes! Extra shipping fees apply outside the US. Umsteigen is not responsible for customs duties and sales taxes charged at the border. International orders can be exchanged, we are not responsible for extra shipping charges incurred.
We gladly accept Visa, MasterCard, American Express, Discover, or regular account payments all through PayPal.
How secure is this store?
This store uses PayPal for payments, and PayPal automatically encrypts your confidential information in transit from your computer to ours using the Secure Sockets Layer protocol (SSL) with an encryption key length of 128-bits (the highest level commercially available).
Do I need a PayPal account to purchase from this store?
No, you are not required to have a PayPal account to purchase from this store. Although if you already have a PayPal account you may use it.